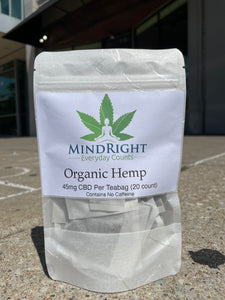 MindRight Herbals
MindRight CBD Tea
Regular price
$21.00
$0.00
MindRight CBD TEA 900MG (20CT.) features slow-grown American hemp harvested at peak blossom to bring you first-class, superb taste and quality. With a distinct earthy flavor and aroma, caffeine-free hemp helps to support a normal inflammatory response and positive mood. The simple act of enjoying a warm cup of CBD-enriched tea helps one to unwind and enjoy the simple things in life.
 
DOSAGE:
Use a single tea bag for 45MG of full-spectrum hemp, a great dose for those just getting started with CBD. For a stronger dose, add an extra tea bag to your cup. Monitor how you feel and adjust your dosage accordingly. 
 
USAGE:
Enjoy this caffeine-free tea before bedtime. Take the tea bag out of its paper wrapper and place into your favorite tea cup. Fill the cup with 8oz. of hot water. Let the tea steep for 5-10 minutes before removing the tea bag. Your tea is ready!


HELPS TO SUPPORT:
A calm and relaxed mood

Healthy joint mobility

A normal recovery response

Healthy inflammatory function

A good night's sleep

Focus
FREQUENTLY ASKED QUESTIONS (FAQ)
What is CBD tea good for? CBD tea communicates with your body's endocannabinoid system to help support the a normal recovery response, healthy joint mobility, and a good night's sleep.
Is CBD tea effective? CBD tea is effective just like any other edible CBD product. CBD smokeables have the quickest effect, CBD oil is next up, and CBD consumables have the slowest effect but may last the longest.
What are CBD tea benefits? CBD tea is made with ingredients that help to support healthy inflammatory function, a sense of relaxation, and a good night's sleep.
What are the CBD tea effects? With its high CBD content, CBD tea will help you to experience CBD's most common benefits with ingredients that support a calm and relaxed mood, focus, and a good night's sleep.
---
More from this collection