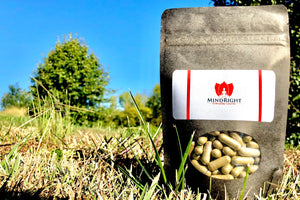 MindRight Herbals
MindRight - Red Vein
Regular price
$8.00
$0.00
MindRight Red Vein can be used while at home, at work, or general applications where relaxation and comfort are important.
  **Please do not place (1) in front of your area code upon checkout**
MindRight Red Vein- Our red vein kratom is sourced to be great for inflammation, relaxing after a long day at work, or a better nights sleep. Many love the clean sedative properties of our red vein and has been said to help wonderfully with aches and sleep. 
 Please Note: Red Vein may cause dizziness in high doses. Please use caution and dose low until you understand your reaction.
 This product is packaged and sold as a botanical ingredient and with no directions for use or claims regarding them. Keep out of reach of children. Must be 18+ to purchase. This product has not been evaluated by the Food and Drug Administration. This product is not intended to diagnose, treat, cure, or prevent any disease. Any minor attempting to make a purchase will be prosecuted to the fullest extent of the law. 
Mitragyna Speciosa is currently illegal in these states (and cities) in the US and we will not fulfill orders to:
    •    Alabama
    •    Arkansas
    •    Indiana
    •    Vermont
    •    Rhode Island
    •    Wisconsin
    •    Sarasota County (Florida)
    •    San Diego (California)
    •    Jerseyville (Illinois)
(MUST BE 18 OR OLDER TO PURCHASE)
Use with caution
Do not use while operating a motor vehicle or machinery. If you are pregnant or nursing or if you are currently taking any medications.

Ingredients
100% Pure Mitragyna Speciosa Leaf
---
More from this collection